Apartmii — a New Look at Property Management
This innovative rental property mobile engine is designed to improve the interactions between landlords, tenants, and realtors in long-term relationships.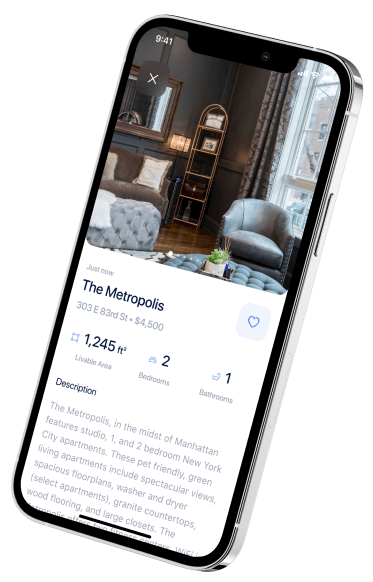 About the solution
COVID-19 was a considerable shift in our lives that increased our dependency on online technologies.
One particular industry has also experienced considerable changes — real estate. People have already adopted new online technologies, such as real estate listing software, applications, and video conferencing.
35%

Sellers relying on virtual tours

National Association of Realtors (NAR)

40%

Increase in purchase applications. Online appraisals are conducted through iPhones.

NAR

80%

Of buyers found their home online.

Better.com
Reinventing Rental Real Estate Software
Developing real estate solutions requires going through numerous steps before app development can even begin. With Apartmii, some steps can be skipped or accelerated. It allows your technical team to immediately begin developing models.
Apartmii is a mobile engine that implements new technologies for users to have a safer and easier experience in the real estate industry.
2X Faster for
developing real estate mobile apps
Apartmii
Appartmii is a mobile engine that implements new technologies for users to have a safer and easier experience while looking or working in the real estate industry. For example, one user could be a renter who is looking for a new home, but is reluctant to leave their house.
Key Features
Artificial Intelligence

We can use AI to find the best options that are based on the user's likes, preferences, and interests.

Virtual Reality

VR can boost the presentation experience of a home to the next level while keeping the user safe.

Augmented Reality

AR is a powerful tool that highlights features, implements virtual navigation, and makes this navigation easy to use.

Simple UI

We have a variety of users of all ages, so apps should be simple and accessible for everyone.

Live Video-Tour

This powerful virtual tour software makes the online experience be as close as possible to the real-life experience.

Credit Score

A credit score is an important tool for both realtors and landlords to get an initial impression of a tenant.
Development Stages
By using the Apartmii engine, the process of developing a real estate app is divided into three stages:
1

Adapting to Your Needs

We will crash-test your idea and find ways to improve the engine and integrate it into your existing workflow.

2

Product Design

We will create the perfect user experience; competitive and responsive design.

3

Product Development

The development process will include all stages to undergo quality assurance.
The Story behind Apartmii
The global goal of this project was to create a bridge between landlords and tenants which will be managed by realtors.
As the real estate market has become exceedingly competitive, it's become harder to match landlords with the right tenants and vice versa. As a result, many online solutions for real estate agents have features that help address this issue and achieve a similar goal such as Apartmii's.
We've conducted multiple research and interviews and came up with six key features for real estate apps for buyers, sellers, renters, and landlords.
Challenges
The biggest challenge was the time. While the pandemic was rapidly changing our lives, people still weren't ready to rent an apartment based on photos on a website or in a mobile app. There were tons of attempts but none succeeds.
We've made huge research, spoke with hundreds of people and spent weeks on testing UX to design a mobile app that can use anyone with a smartphone.
User stories and user flows
Based on the insights gathered during our research, user stories were formed and prioritized.
After that, a user journey flow was prepared to guide us further in the design. Selected flows underwent usability testing with a group of respondents representing our target audience.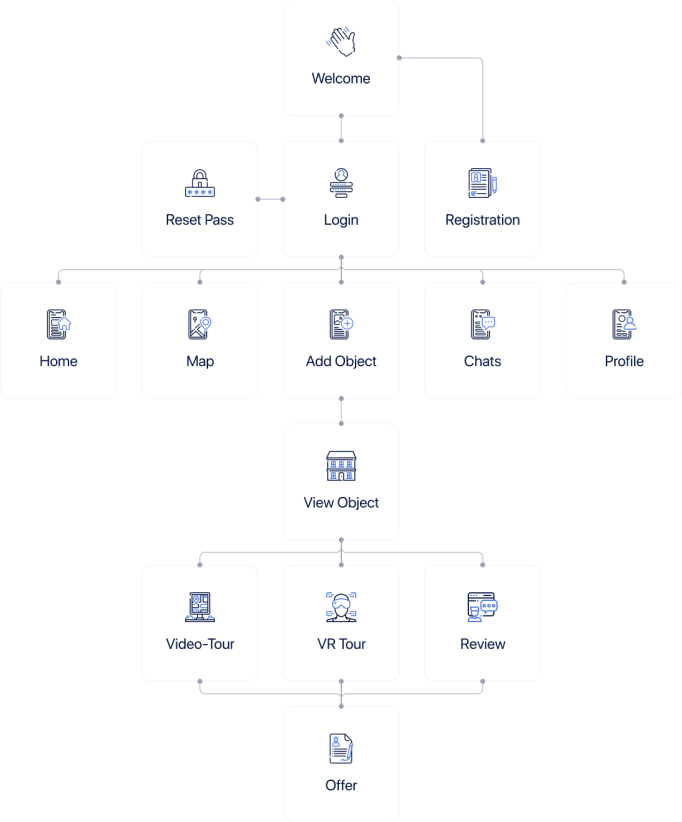 Welcome
Reset Pass
Login
Registration
Home
Map
Add Object
Chats
Profile
View Object
Video-Tour
VR Tour
Review
Offer
Personalized Home Screen
The home screen will always show available video tours that a user may find interesting and relevant home features that may match their requirements.


Interactive map with your objects
Users will fill in their requirements in order to see all relevant objects on a map. In the future, we are planning to add an option that allows the user to view the objects through their camera with AR.
Choose your way of communication
If a user has any questions about an object or the home, they will be able to send a message to the agent or use video calls for face-to-face interactions.


Dive into live apartment tours
Users can experience live video tours by professional realtors. They will be able to check the home, explore the neighborhood, and ask live questions with their phone.
Get started with your apartment
A user can add their tenant specifications and get thousands of offers by verified users in a minute! Want to check an applicant's credit score? We've got you covered!

Apartmii Engine
Get valuable insights
Discover the benefits of digital disruption in your industry
Don't dream for
success

, contact us

Leave an inquiry or contact us via email and phone. We will contact you within 24 hours during work days.
Austin, USA

701 Brazos St, Austin, TX 78701

Tel Aviv, IL

31, Rothschild Blvd

Warsaw, PL

Przeskok 2

London, UK

6, The Marlins, Northwood

Munich, DE

3, Stahlgruberring

Vienna, AT

Palmersstraße 6-8, 2351 Wiener Neudorf

Kyiv, Ukraine

154, Borshchagivska Street