Project intro
Usually, you have different applications for different purposes. For example, Twitch for watching streaming videos, Tiktok and Instagram for entertainment and casual browsing, Clubhouse for audio chats, and Zoom for video chats. What if all these applications could include all these features?
Luckily, there is no need for "what if". Scoby provides all of them. Scoby aims to bring people together during the pandemic and recurring lockdowns.

The technology behind
Before this video chat app development started, we evaluated three different video broadcasting technologies: Twilio, WebRTC, and Mediasoup. Eventually, Mediasoup became the core technology until the initial release. It supports higher loads of users who use the application simultaneously.
As the technology is new, our team had to create new features in order to customize it and maximize its effectiveness.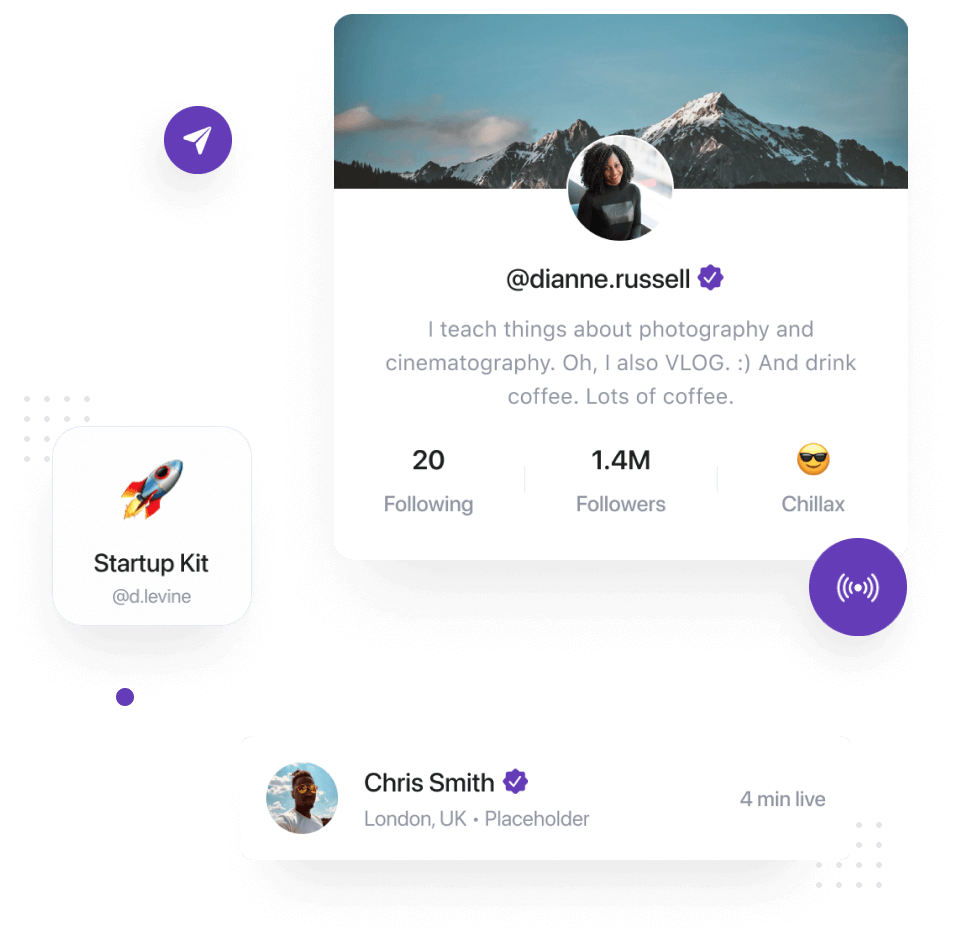 First steps
In the very beginning, the concept of Scoby existed as a web platform though the focus was moved to a mobile application. The reason is the incredible popularity of apps like Instagram, TikTok, and Clubhouse.
The team
The team behind the project faced numerous challenges. We had to conduct market and business analysis in order to find out how the final product should fit the market. Creating a social network app has to require modern standards in order to be competitive, viral, and meaningful.
We analyzed potential users' needs, collected all the industry benchmarks and kicked off the development. We also had to pay a lot of attention to UX design. We put usability on the first place and kept minimalistic yet easy to use design to make the user experience enjoyable and fun.
Considerable achievements
As the platform itself requires a lot of customization and high load testing, we've faced multiple challenges.
Fast development
The application itself is complicated. Such apps require a team of over 20 specialists. Our team of 5 specialists managed to deliver an MVP in three months, and the product in seven months.
New Technologies
Mediasoup and React Native are new technologies with a few documentations. The development required testing numerous hypotheses, building logic or external integrations.
Successful launch
The solution development was dedicated to the launch of an online event. Our team aced the whole process and provided the client with the working competitive app.
Mobile video conferencing
social

network

Our team is happy to provide innovative features for mobile video conferencing apps. We are happy that our solutions become profitable and popular.


Newsfeed
AI-powered newsfeed that recommends both favorite content creators and rising stars.


Video conferencing
Users can have private video calls, broadcast for larger audiences, and hold conference calls with friends.


Communities
Users can: support their favorite content creators with gifts and donations; follow interesting topics.


Scalability
Our application can support higher loads for broadcasters and supports easy implementation of additional features.
Creating a social networking app requires huge teams and months of development. We aced app development in 7 months with a small team which is an amazing result.

Slava Vaniukov,

Co-founder and CEO at Softermii
Testimonials
Muna Al Hashmi

Founder of a Proptech Startup

Walid Farghal

Event10x. Director General

Reece Samani

CEO & Founder, Locum App, London

Duncan Mitchell

Managing Director, Co-Founder at TempTribe, London

Krystian Lewanczyk

CTO, Universal World Passport

Jay Whitley

Founder, 24 Hour Designs

Executive

The Cookie Labs

David Levine

Founder, Scoby Social

Phillippe Polveche

Director of Information Systems

Ashley Lewis

VP of Product at Dollar Shave Club, Los-Angeles
I have enjoyed the transparency and commitment!
Softermii are great with time management and produce high-quality work. Because of how satisfied we've been with their work on this project, we're exploring bringing them in on a separate project as well.
It was great experience!
Softermii have very hard commitment towards the project delivery on time without any delay, without any obstacles. We ended up by having a very attractive and competitive product that can compete with any other virtual platform.
It was great experience!
They were really on top of everything and pushed everything together done really good. They know how important my timelines were and they made sure that they're dead to them and got everything done really quickly.
The team is very dynamic and is really flexible with picking up urgent bugs. I found that is a really good working relationship in that sense that the prices are very reasonable and they are accessible even over the weekend. So we didn't get that kind of services before.
The team was genuinely invested in the success of our platform.
Sofitermii's team was genuinely invested in the success of our platform. They were also personable and provided a high level of customer service.
They're really good at showing how they can add value to our initiatives
They always reach out, asking how they can best add value to our business. That can be a risky thing to do, but they're really good at showing how they can add value to our initiatives. We've built our relationship on that. With millions of developers in the world, connecting like this will help individuals stand out from the pack.
In terms of code quality, Softermii are really up to any professional standard
Softermii are always on track with their timesheets and the milestones are being reached even earlier than planned. They are performing on par with our expectations. They deliver top-notch quality and are really reliable.
Softermii has proven to be a professional, reliable, and effective partner
Softermii delivered a really robust, technically sophisticated app that integrates multi-party video conferences with social media dynamics. Throughout the collaboration, Softermii has proven to be a professional, reliable, and effective partner, integrating well with the internal team.
Softermii team was able to meet tight deadlines
They had the skills we needed, were able to meet tight deadlines, and were responsive. We had some changes in the validation phase, and Softermii handled those quickly.
Working with Softermii is a good idea!
I have experience working with other companies, and Softermii excels at recruiting. They've brought in some amazing developers. Besides that, working with Softermii is a good idea. I don't think anyone will be disappointed.
In total, we have about 5–6 people working on the project, including dedicated iOS and Android developers, backend developers, and a project manager. Besides that, they have some quality assurance specialists and a designer. They have been rather professional in their communication and in their project management. They've really tried to go the extra mile to handle the project in the best way possible.
I would highly recommend Softermii for any computer programming needs your company may have. I have worked with them for well over a year, and are consistently impressed by the quality of the work and team effort brought forth by everyone that we've worked with.I hope to have the opportunity to work with them on future projects!