Augmented Reality in Healthcare: Benefits & Examples
26 August 2022
• 15 min read
Want to know more? — Subscribe
Augmented reality is a lucrative tech right now. By 2026, the market for it will reach an incredible $88.4 billion. From this amount, over $4 billion will go to advance AR in healthcare.
You may have heard about augmented reality use cases in healthcare. But what exactly is this emerging tech all about, and how does it apply to this industry?
Just a few benefits of augmented reality in healthcare include better treatment, more precise surgeries, and improved doctor collaboration. But there's more, and we'll tell you about them in today's article.
We'll begin by explaining what AR is, and then we'll detail how augmented reality in healthcare might end up being the most significant advancement in decades.
In this post, Softermii draws from our profound experience in creating healthcare solutions like HIPAA Telmed, MedRealtime, and My Health Explained. Being experts in health tech, we've got a lot to tell you.
Augmented Reality in Healthcare in Numbers
There is a common opinion that AR is only for gaming, like the Pokémon Go that so many people played just a few years ago. But this tech appears more and more frequently in all sorts of other niches.
It's not just buzz words about augmented reality applications in the medical industry. According to AllTheResearch, healthcare's most used AR devices include head-mounted displays, smart glass, and handheld devices.
One of the reasons for the increased demand for AR in healthcare was the pandemic. From 2019 to 2020, the market for augmented and virtual reality in the medical field grew by 27%. After the recession of the pandemic, from 2020 to 2021, the demand for AR and VR only increased. Medical companies contributed to the growth of the market by 85%!
As we mentioned, the augmented reality market will exceed $4 billion in 2026. It's an annual growth rate of over 27% between 2019 and 2026. These outstanding numbers suggest that AR will significantly impact the healthcare industry for decades to come.
How Does Augmented Reality Work?
Augmented reality apps deploy virtual images or interfaces and lay them over real-world scenes or scenarios. This overlay is executed in real-time with the input received from a camera or another input device like smart glasses. Therefore, AR definition refers to virtual objects brought into your environment through technology.
Main Components of AR Technology
The interaction of the real world with the virtual becomes possible owing to specialized software and hardware. So what are the primary components of augmented reality? Let's talk about them in more detail:
AR Hardware
These can be sensors or tracking devices such as accelerometers, gyroscopes, GPS, digital cameras, or optical sensors. These are also user's input devices, such as a microphone, touch screen, specialized clothing, or gesture devices. One more hardware component needed to deliver an AR experience is output devices, such as smartphones, tablets, laptops, or smart glasses.
AR Software
AR software includes apps and programs that receive data received from hardware. As a result of processing this data, the applications make it possible to create augmented reality.
Core Benefits of Augmented Reality in Healthcare
Augmented reality in healthcare can significantly increase medical services' quality. AR assists doctors with advanced tech devices, allowing them to study human anatomy better and expanding global collaboration opportunities between physicians.
And that's not all the benefits of AR in healthcare. Here's more:
Improved Medical Student Training
With the growing popularity of online learning and the forced transition to remote mode due to the pandemic, educational activities require new approaches. It is especially relevant for medical students who critically need hands-on experience. With AR, this becomes possible.
For example, students can study human anatomy not only from textbooks or anatomical models. This experience can become digital through the use of 3D augmented reality models.
Increased Surgery Precision and Efficiency
The benefits of augmented reality in surgery include improved laparoscopy and minimally invasive surgery capabilities. How is this possible? Doctors can use AR to complement the results of the patient's body scans. The studied information can then be used during surgery.
Better Diagnosis and Treatment
Augmented reality can help simulate the symptoms a patient is experiencing. This way, it will be easier for the doctor to establish diagnoses and define treatment.
For example, with AR tech, you can simulate a patient's vision suffering from a particular eye disease or disorder. Then the doctor can take a more comprehensive look at the problem and help solve it.
Increased Patient Satisfaction and Engagement
One of the main advantages of augmented reality in the healthcare industry is increasing customer satisfaction and engagement rates of hospital applications. For example, interactive augmented reality experience in the apps for physical or mental rehabilitation engages users in training much better.
Recapping the above, the main benefits of AR in healthcare include enhancing the quality of our lives and creating new prospects for cutting-edge technologies and future medicine.
7 Powerful AR Use Cases in Healthcare
There is a reason to believe that augmented reality Android or iOS apps, for instance, could become standard as more individuals understand how useful and convenient this tech is. Hence, AR integration in mobile applications has become a common feature for many mHealth apps, especially educational or telemedicine ones.
What's incredible, though, is that using AR in medicine is not brand new. One of the first examples of this tech was Google Glass, the first AR platform to go mainstream. While it received mixed reviews, it seemed clear that this was far from the last time we saw this tech when Glass Enterprise Edition 2.0 was officially presented.
Despite its wide range of use cases for different industries, Google Glass producers mentioned healthcare primarily. Just watch a short video on what a revolutionary product it was: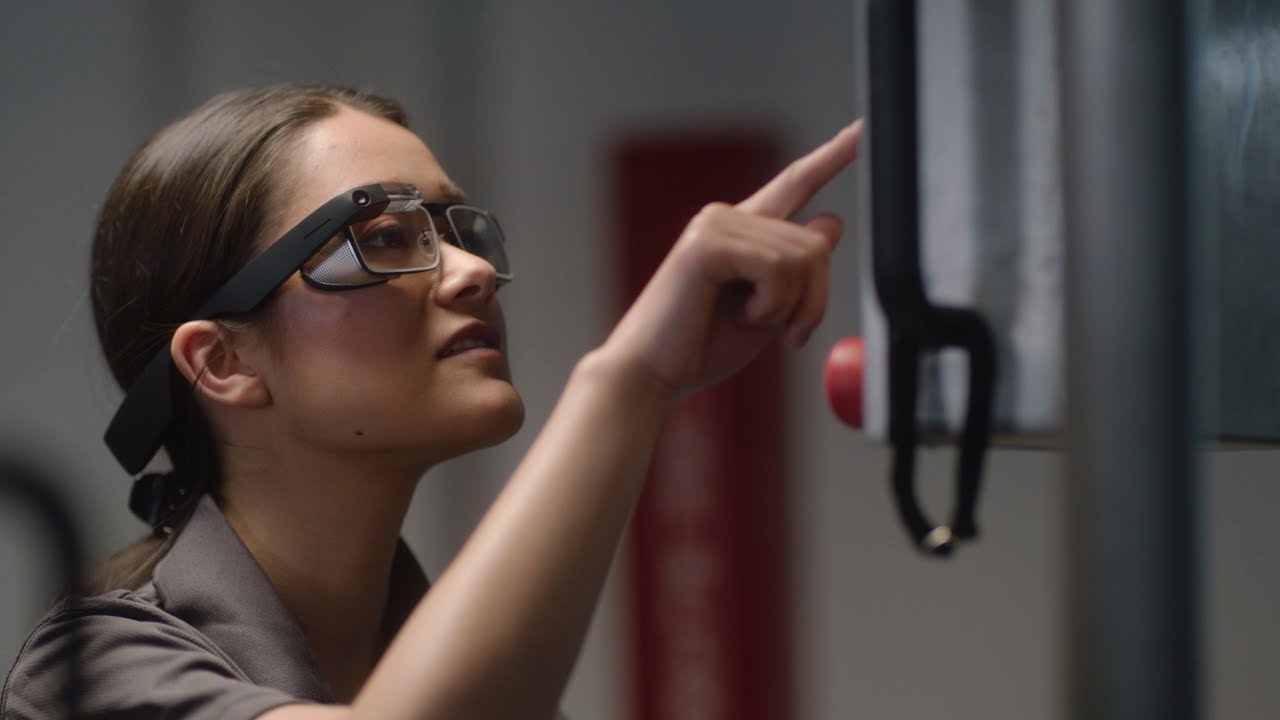 But AR glasses aren't the only way for augmented reality applications for healthcare. Got intrigued?
Most of the public is unaware that today, AR is used by physicians and surgeons during interventional procedures. Two examples are Computerized Tomography (CT) and Magnetic Resonance Imaging (MRI) visualization paths.
Also, it is being used more for medical education, as the possibilities are as limitless as they are exciting. Thus, AR-based healthcare software development is more than mainstream, but a technology that can change the way and quality of medical treatment we've received. So, let's discover the most real-life uses cases of AR in medicine in our list:
1. Augmented Reality in Surgery
When you think of it, it should come as little surprise that augmented reality should be helpful in areas such as complex, delicate surgery. In the immediate future, AR will assist doctors and specialists by providing all the necessary information when trying to save patients' lives.
They will be aware of organ location, vein meshes, and diagnosis reports that appear right in front of their eyes as they operate. Imagine the AR experience this can create between a surgeon and their support team. You can better picture this by watching how Brazilian surgeons implemented AR virtual interfaces that assist them in spinal surgery.

Additionally, surgeons might project 3D digital CT models onto the patient using Microsoft HoloLens. As a result, doctors can understand the unique anatomy of the patient's blood vessels, bones, and tissues before surgery.
This revolutionary tech makes the surgery safer. The risks related to minimally-invasive operations and more detailed surgical processes can be reduced dramatically.
Surgeries where once there was a high mortality rate will become safer. Patients won't have to be as scared as they might have been. Health problems that were once almost a death sentence may not be anymore.
2. Virtual Collaboration Between Doctors
AR will also be used to assist doctors with collaborative surgeries or to have an effective meeting on any medical issue with augmented reality video conferencing, even between specialists far away from the clinic.
Take surgery as an example: the primary surgeon can be thousands of miles away, but a specialist who is on hand and possesses AR tools can follow the instructions of a noted expert. Complex surgeries may no longer require the patient or the surgeon to travel.
Other augmented reality examples in healthcare are AR telemedicine solutions like XR Doctor. This platform allows for remote diagnostics, physician collaboration, and telesurgery.
Read also about how Healthcare APIs improve medical software.
3. AR Medical Surgery Training
New AR apps will be able to deliver a 3D experience for surgical trainees. It means that money can be saved in the model or mannequin creation areas. Instead, a complex 3D model can appear before their eyes, and they can interact with it as much as they would with a physical version. Their professors can simultaneously follow their actions and correct them if they make mistakes.
A cutting-edge example of AR mHealth technology is the app like Touch Surgery. It's a surgical simulator training platform that allows medical students and specialists to prepare for surgery, learn new procedures, and test their knowledge – all on mobiles.

You can follow another way of medical training: use AR hardware. For example, Varjo offers a virtual and augmented reality headset using which students can prepare to perform surgeries.
4. Assisting Doctor Medical Practice
Things like surgery or education are far from the only ways that AR is going to be implemented when it comes to the medical profession, though. Augmented reality will also be able to assist doctors who are doing everyday consultations with patients.
Both doctor and patient will soon be able to look at 3D visualizations of internal organs. A decent example of augmented reality apps for healthcare is AccuVein, a product that helps visualize patients' veins.

This same technology can help to observe things like a brain tumor so that a patient will understand precisely where it is located when a doctor gives them a diagnosis.
Doctors and patients can look at visualizations of electronic medical records (EMR) on a device that most people have, like an Android or iOS-based phone.
AR glasses are also likely to come into play. They will allow doctors to see health records at the same time that they are examining or speaking with a patient. They won't have to consult a computer to see a patient's past complaints or disorders.
You may find an interesting article about how to develop a doctor appointment scheduling app.
5. Better Doctor-Patient Communication
Telemedicine solutions such as the telemedicine app that our team has created make doctor-patient consultations much more accessible.
The next level of telehealth app development is using AR for conducting remote video conferencing with the doctor. Such AR telehealth apps and software will make communication between doctors and patients to new levels of convenience by combining, for example, interactive voice recording, speech recognition, and capabilities to locate pain and better diagnose.
And it's quite convenient for patients. On one side, for example, if a specialist in a foreign country is an expert on a rare disease, they can have a consultation with a patient without that person having to travel all of those miles by plane.
Read also: Cost to Implement a Telemedicine.
The interactive telehealth application with virtual AR experiences allows for showing and better locating the source of pain. It can also show patients with chronic pain how to do exercises as needed in real-time. It could erase the need for some stents in physical therapy if that is not convenient for the individual who is in distress.
See more insights in the article about video streaming platform development.
6. AR Apps and Devices for Health Treatment
Devices and AR apps will soon be used for all patient treatment possibilities. Augmented reality applications for pain management will be easier through the use of Microsoft's Kinect camera. It is a motion-sensing input device initially developed for gaming.
However, the medical field sees potential in it too. AR applications may be useful in neuropathic pain, various kinds of rehabilitation, and augmented reality in mental health treatment.
For example, let's take physical and sports rehabilitation with AR-based apps and devices that can help patients engage in exercises with 3D visualizations. On another side, augmented reality applications for rehabilitation can also help physicians to observe patients' movements during training better and provide better treatment.
7. Medical Education for Students and Patients
In the past, patients might not necessarily have been able to understand everything that a doctor was telling them. Now, through AR benefits in medicine, a doctor can show a patient exactly what they mean through access to things like body mapping.
Medical students will be able to use this technology as well. They can observe the intricate internal systems of carcasses while studying the human body during medical school. These are truly the benefits of AR in the medical field.
Curiscope's Virtuali-tee product even offers anatomy education for kids. The child can immediately see a body model with internal organs by downloading the app and scanning the QR code on a special T-shirt.
Another example is AR-based apps like HoloAnatomy, which, with the help of AR glass, can project human anatomy, some educational information, visual 3D structures of organs, etc. More importantly, users can interact with 3D models to improve their medical practice.
How Softermii Can Help Create AR Solutions for Healthcare
Healthcare is our primary expertise area. We create efficient and reliable software solutions for medicine that can perform various tasks. Our products include telemedicine, appointment scheduling, health tracking, and patient medical education.
Health Tracking Products Development
Take My Health Explained as an example. It's a mobile and web app that helps people with diabetes monitor their health. It offers personalized diabetes programs and valuable health tips and recommendations.
In My Health Explained, we achieved the user-tailored approach owing to the onboarding and survey features that help offer a suitable program for each patient. Our experts also made a logical UX and meaningful interface for convenient user interaction with the product.
Telehealth Products Development
We also develop telemedicine solutions and do it two times faster than other tech companies. Why? We use our custom VidRTC engine for implementing audio and video conferencing.
Our products like HIPAA Telmed and MedRealtime are decent examples of telehealth solutions. They are both regulatory compliant and offer secure doctor-patient communication.
HIPAA Telmed combines all features for comfortable online meetings. This web app enables video and audio calls, appointment management, EHR integration, screen and document sharing, data encryption, and in-app payment.
MedRealtime advances doctor-patient interaction as well. Apart from audio and video calls and appointment management features, it offers map integration, messaging, and custom reminders.
Advanced Tech Use
Just imagine supplementing these tech ventures with AR. Sounds great? Get in touch with us. Our specialists are constantly developing and attending tech courses to find the most innovative solutions for your product. We will not only handle AR, but also offer you VR, AI, and blockchain development services.
Read Also: Use Cases of Blockchain in Healthcare
Is There a Future for AR in Healthcare?
AR technology is rapidly changing our lives and the medical system while growing incrementally. Hence, the answer to the question of "what is augmented reality in healthcare" might be one thing today, but it will probably be completely different in five or ten years.
It stands to reason that AR in the medical field will be capable of things we are only beginning to conceive in half a century or even less. The future of augmented reality in healthcare is bright.
Because of such revolutionary opportunities, now AR development is something on which many different companies are focusing, and it's obvious why that is. Apart from the comfort it will provide patients with, the profitability for many different businesses is self-evident.
Think about what AR healthcare applications can mean for drug and pharmaceutical companies, providers of different sorts of medical products, and doctors. They will be able to allocate resources elsewhere that once would have gone into things that an app can now handle. That will dramatically increase their bottom line and make their shareholders happy in the case of publicly-traded companies.
Also, given the rapid growth of the AR market and increased investment in this technology by the healthcare sector, augmented reality is here to stay.
Final Thoughts
Now is the right time to outrank your competitors and deliver better treatment for your patients by integrating AR into your healthcare solution. Technologies are the future of the medical field, and you need to adapt to these changes as fast as possible.
Drawing on extensive experience working with healthcare products, Softermii can create such a solution for you. We develop mHealth apps of various complexity and telemedicine software following all security and regulatory requirements.
So let's drive the healthcare industry together. Drop us a line and discuss your promising project idea with us.
Frequently Asked Questions
Do augmented reality solutions evolve in telemedicine?
Yes, augmented reality has already affected telemedicine. Developers use ARToolKit to build different AR solutions. With the help of this computer tracking library, they can deliver an augmented experience. For example, a doctor can remotely show a patient what processes are taking place in his body or how the disease progresses.
Is it hard to create an AR application for medicine?
Implementing augmented reality technologies in healthcare software is a comprehensive and sometimes challenging process. Such product development requires niche AR experts and an experienced development team. Softermii, for instance, has considerable background in the healthcare sector. In particular, we create effective solutions for telemedicine.
Where to find companies that develop AR/VR solutions in healthcare?
It is best to look for reliable companies through acquaintances. Yet, you can also try searching on professional social networks like LinkedIn, freelance platforms like Upwork, or posting a vacancy on a job aggregator.
What are the issues of augmented reality in healthcare?
The medical world is not perfect. Although some healthcare organizations are already implementing AR and VR into their processes, this cannot be said about all medical establishments. It may be because of insufficient funding, lack of AR experts, or clinical and organizational issues such as bureaucracy.
How about to rate this article?
767 ratings • Avg 4.6 / 5